Ricotta Stuffed Shells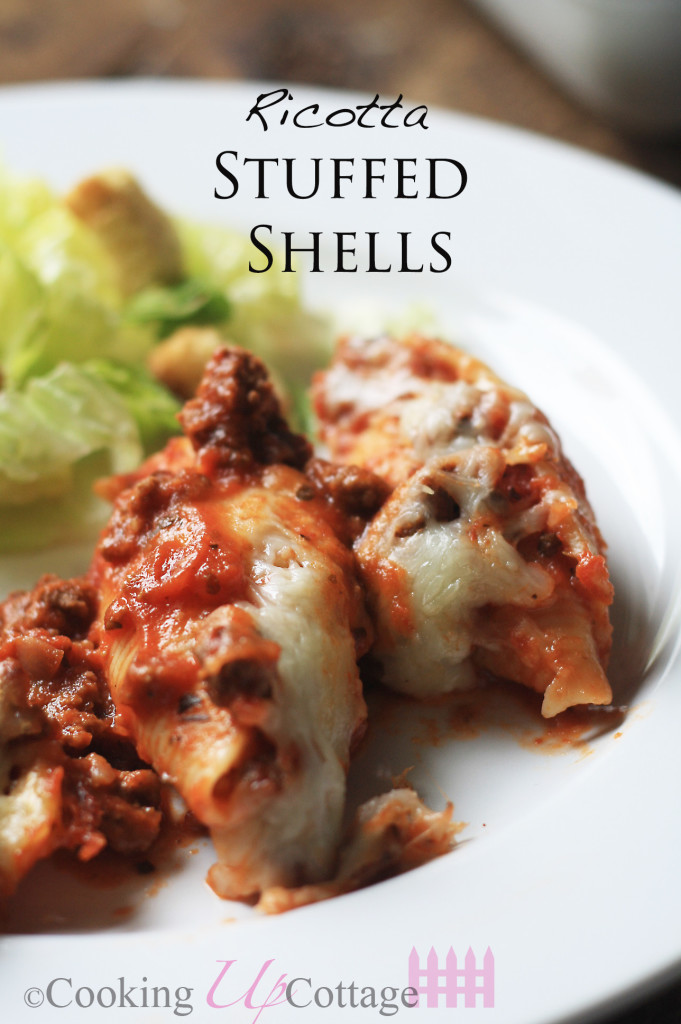 Ingredients
1 (12 oz.) package of jumbo shell pasta ( you will need 30 shells out of a 45 shell package)
1 lb. of ground beef
1/2 of an onion chopped
1 (45 oz.) jar of Prego pasta sauce (that is the large jar)
1 (15 oz.) container of ricotta cheese
4 cups of mozzarella cheese
1/2 teaspoon of garlic powder
1/2 teaspoon of salt
1/4 teaspoon of pepper
Instructions
Start by cooking the shells according to the package directions. You will need 30 shells to fill a 9"x13" lasagna pan. Around 45 shells come in a (12 oz) package of shells. While the shells are cooking, chop up half of an onion and brown it in a pan with the 1lb. of ground beef. Season the meat with 1/2 teaspoon of garlic powder, 1/2 teaspoon of salt, and 1/4 teaspoon of pepper.
While the hamburger is browning, you can start mixing up the filling in a bowl. Mix 2 cups of shredded mozzarella cheese with 1 (15 oz.) package of ricotta cheese.
Now pour 1 (45 oz.) jar of Prego pasta sauce into a bowl and divide the browned hamburger equally between the two bowls.
Spread a thin layer of sauce on the bottom of the 9"x13" pan.
Now it's time to stuff the shells. Fill each shell with a spoonful of the filling.
Repeat with all 30 shells until your pan is full.
Top the shells with the remaining sauce.
Then add 2 cups of shredded mozzarella cheese on the top of the sauce.
Cover the pan with foil and bake for 30 minutes at 350 degrees. And then uncover the shells and bake them for an additional 15 minutes.
Click here to view more recipies at Cooking Up Cottage.