Grandma Dow's Cinnamon Rolls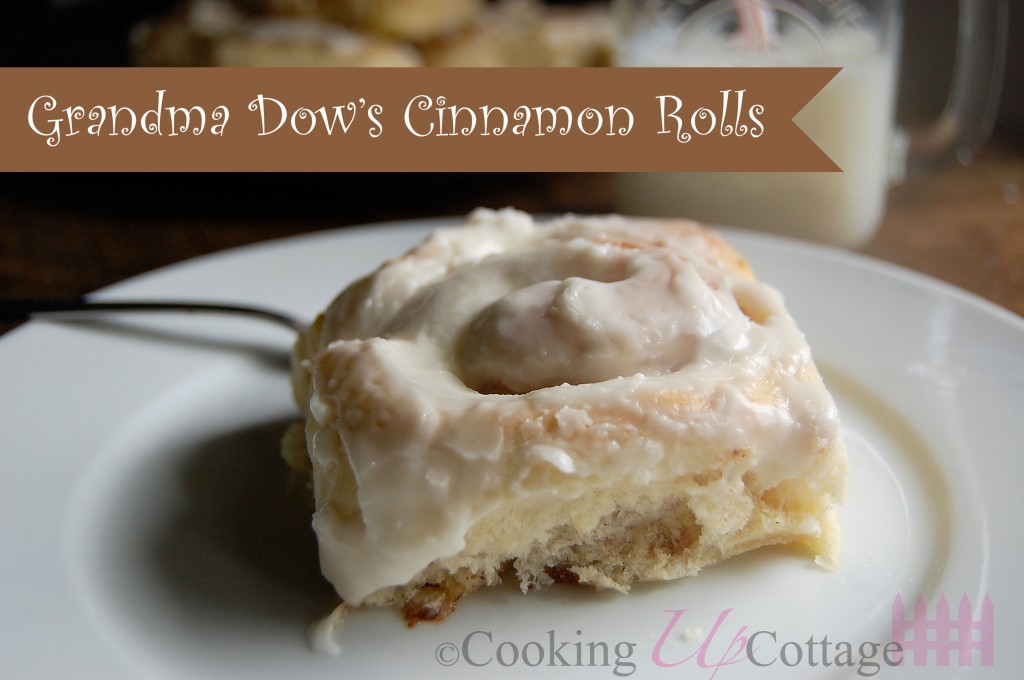 Ingredients
(Yeast Mixture)
1/2 cup warm water
1 tablespoon sugar
2 tablespoons yeast (or 2 packages)
--------------------
(Butter Mixture)
2 cups of milk
1/2 cup (heaping) sugar
1/2 cup softened butter
1 teaspoon salt
--------------------
2 beaten eggs
8 cups flour
--------------------
(Filling)
1/2 cup butter to spread on dough
1/2 cup sugar to sprinkle on dough
Cinnamon to sprinkle on dough
Instructions
To start the cinnamon rolls, mix the following ingredients to make the yeast mixture in a bowl 1/2 cup warm water (temp. the water to 100-110 degrees), 1 tablespoon sugar, and 2 tablespoons yeast (or two packages). Stir it in the bowl until just mixed and let it sit for 10 minutes. It will foam up quite a bit. The reason you check the temperature of the water is to make sure that it is not too warm so it does not kill the yeast, but that it is warm enough to activate it.
Next, on the stovetop in a saucepan you can make your butter mixture, you warm 2 cups of milk, 1/2 cup of softened butter, 1/2 cup of sugar with it heaping in the cup and 1 teaspoon salt. Heat the mixture until warm about 100-110 degrees. After your yeast mixture has sat for 10 min (it will be foamed up) and your butter mixture is warm, stir the two mixtures together in a mixer with dough hooks.
Now beat two eggs in a bowl and pour them in your mixer and mix until combined. Now it is time to add the flour to your mixture. Slowly add 8 cups of flour, mixing as you add the flour.
Put the dough into a large, butter greased bowl and flip the dough around so the butter gets on all the sides of the dough. Cover the bowl with a clean dish cloth and put the bowl with dough in it in a warm spot in your kitchen and let it rise for 1 hour or more. After the hour has passed, the dough will have rose up in the bowl. Knock the dough down. That means use your hands and hit the air out of the dough. Sprinkle some flour on your counter and start rolling out the dough. Roll it out to about 24 inches in length.
Butter the dough with your softened butter. Sprinkle sugar all over the buttered dough. Then sprinkle with cinnamon. Roll the dough up. Cut the dough in one inch slices. Put the slices on a greased cookie sheet to rise. Let the dough rise one hour or more in a warm spot until the rolls are light.
Bake the rolls in an oven preheated to 375 degrees for 10-12 minutes. When the rolls are done, they will be golden brown.
Now it is time to frost the rolls. You can make a batch of Buttercream Frosting. All you need to do is mix your 3 3/4 cups powdered sugar, 1/4 cup milk, 1 teaspoon vanilla, 1/3 cup butter and 1/4 teaspoon salt. Mix until it is smooth. Frost your rolls with a butter knife while they are hot.
Remember these rolls are preservative free, which means you need to freeze what you don't eat that first day so you can enjoy them for days to come with the same fresh taste and soft texture.
Buttercream Frosting
Ingredients
1 lb. powdered sugar (or 3 3/4 cups)
1/4 cup milk
1 teaspoon vanilla
1/3 cup butter
1/4 teaspoon salt
Instructions
All you need to do is mix your 3 3/4 cups powdered sugar, 1/4 cup milk, 1 teaspoon vanilla, 1/3 cup butter and 1/4 teaspoon salt in a mixer until smooth.