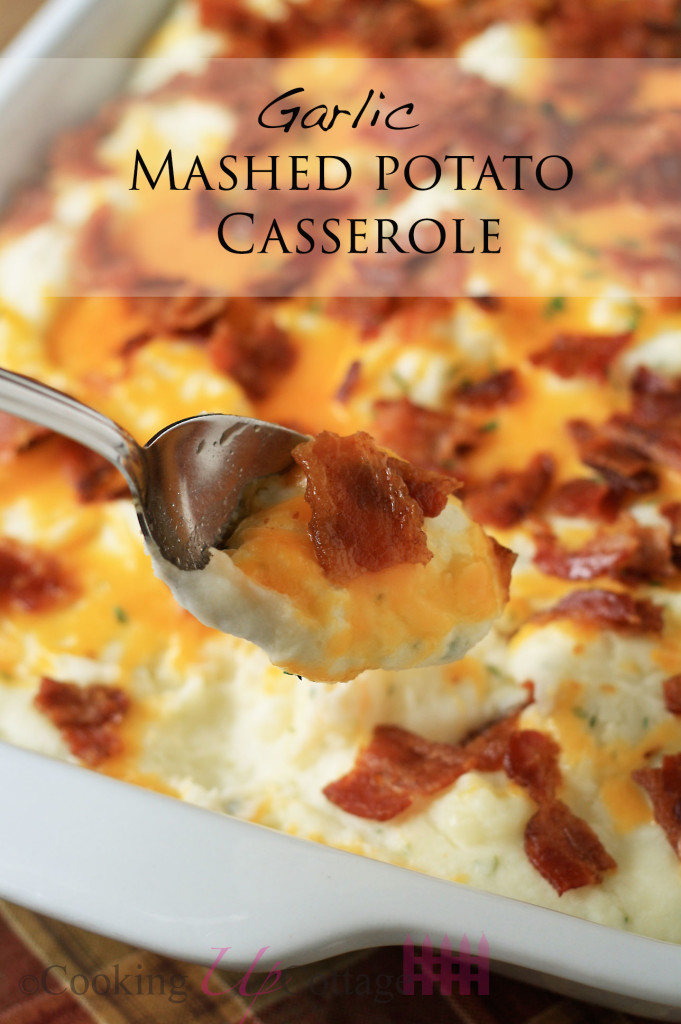 Garlic Mashed Potato Casserole
Ingredients
5 pounds of potatoes (around 11 potatoes)
1 (8 oz.) package of cream cheese (softened)
1/2 cup of milk
4 tablespoons of butter
2 teaspoons of dried parsley
1/2 teaspoon of garlic powder
1 cup of shredded Cheddar Cheese
8 slices of bacon (cooked until crisp and crumbled)
Instructions
First prepare the 8 slices of bacon in the microwave or the oven according to the package directions. When bacon is cooked set it aside. Then peel and quarter 5 lbs. (around 11 potatoes) of potatoes and place them in a pot and fill it with water so it just covers the potatoes. Now let the potatoes come to a boil and boil them for 20 minutes.
Drain the potatoes and place them in a mixer.
Add 1/2 cup of milk.
Next sprinkle in 2 teaspoons of dried parsley and 1/2 teaspoon of garlic powder. Now mix the potatoes until they are smooth and everything is combined.
Spoon potatoes into a lightly greased 13"x 9" baking dish.
Top with 1 cup of cheddar cheese and crumbled cooked bacon.
Cover with aluminum foil and bake at 350 degrees for 30 minutes. Uncover and bake for 10 more minutes or until the cheese is melted.
Click here to view more recipies at Cooking Up Cottage.