Easy Chicken Nachos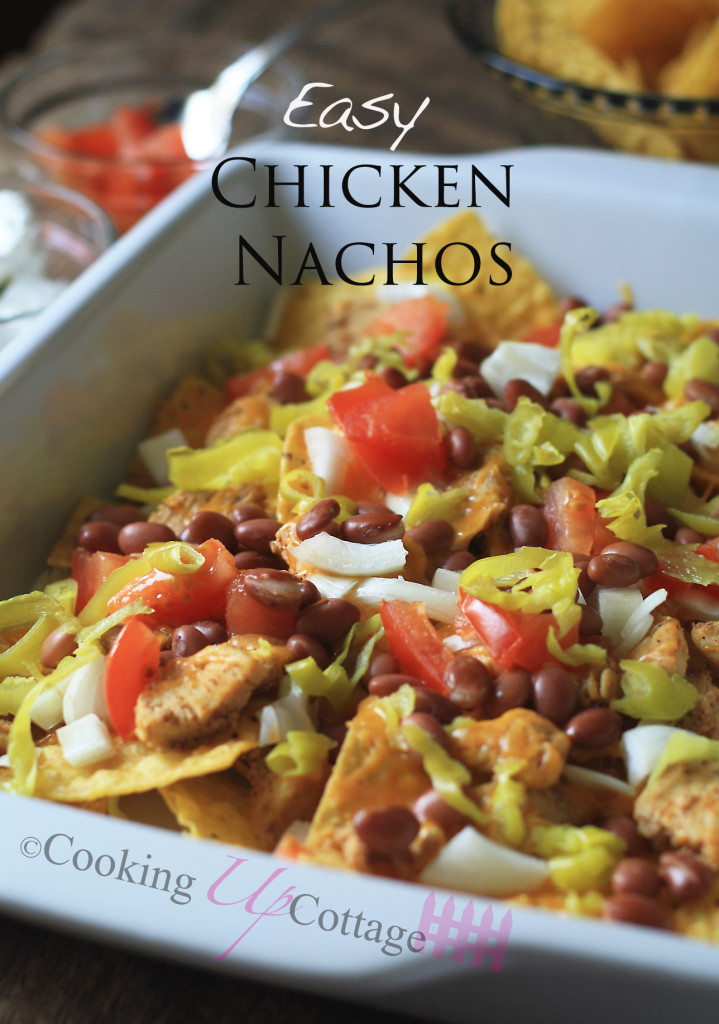 Ingredients
1 bag of your favorite tortilla chips
1 lb. boneless skinless chicken breasts
1 tablespoon butter
2/3 of a cup of water
1/2 tsp. chili powder
1/4 tsp. garlic powder
1/4 tsp. onion powder
1/4 teaspoon oregano
1/4 tsp. paprika
1/2 teaspoon cumin
1/4 tsp. pepper
1/2 tsp. salt
2 cups of shredded cheddar cheese (1 cup for each batch of nachos)
1 (15 oz.) can red beans ( 1/2 can for each batch of nachos)
1/2 cup sliced peperoncini peppers (1/4 cup for each batch of nachos)
1 small onion chopped
1 tomato chopped
Instructions
Start by rinsing the chicken breasts and then chopping them into bite sized pieces.
Then cook chicken in a pan with 1 tablespoon of butter until it is no longer pink and temps at 165 degrees on a meat thermometer.
Then mix 1/2 tsp. chilli powder, 1/4 tsp. garlic powder, 1/4 tsp. onion powder, 1/4 tsp. oregano, 1/4 tsp. paprika, 1/2 tsp. cumin, 1/4 tsp. pepper, and 1/2 tsp. salt into 2/3 of a cup of water.
Pour the spices in the pan with the cooked chicken and simmer for 3-4 minutes or until the sauce has thickened up.
Then add 1/2 of the chicken on top of the chips.
Now get out a 9"x13" baking dish and add one layer of tortilla chips.
Add 1 cup of cheese.
Rinse and add 1/2 of the (15 oz.) can of red beans.
Add 1/4 of a cup of sliced Peperoncini peppers.
Bake the nachos for 7-10 minutes in a 350 degree oven.
This recipe makes two batches of nachos.