Cream Cheese and Chive Stuffed Chicken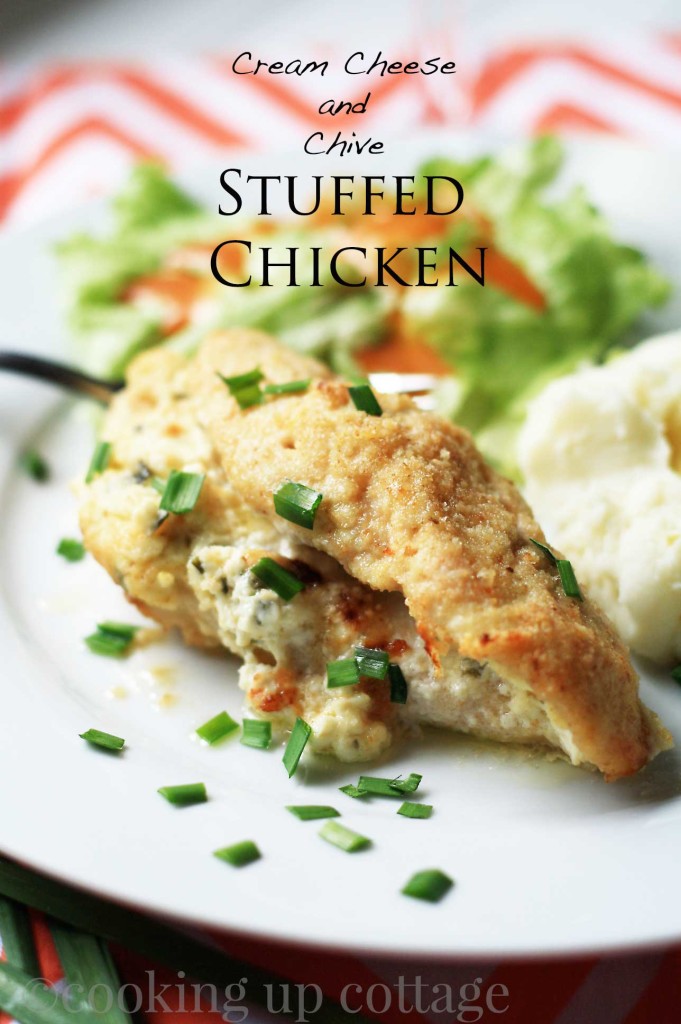 Ingredients
4 boneless, skinless chicken breasts
1 cup of plain bread crumbs
½ cup of grated parmesan cheese
1 teaspoon of garlic powder
½ cup of melted butter
1 (8 oz.) tub of Philadelphia Chive and Onion Cream Cheese Spread
Instructions
Preheat your oven to 350 degrees.
Next pound the chicken breasts with a mallet to about ¼" thickness. I usually put the chicken breasts between two pieces of wax paper to avoid a mess .
In a bowl combine the 1 cup of plain bread crumbs, ½ cup of Parmesan cheese, and 1 teaspoon of garlic powder.
Now in a separate shallow dish melt ½ cup of butter.
First dip the chicken in the butter letting any excess drip off, and then into the breadcrumb mixture coating each side.
Now spread 3 tablespoons of the Philadelphia Chive and Onion Cream Cheese Spread on each breadcrumb coated chicken breast.
Then fold over and secure with toothpicks.
Place stuffed chicken in a single layer in a 9x13" baking dish then drizzle remaining melted butter.
Bake uncovered for 35 to 40 minutes or until chicken reaches an internal temperature of 165 degrees.
Click here to view more recipies at Cooking Up Cottage.