Chicken Pot Pie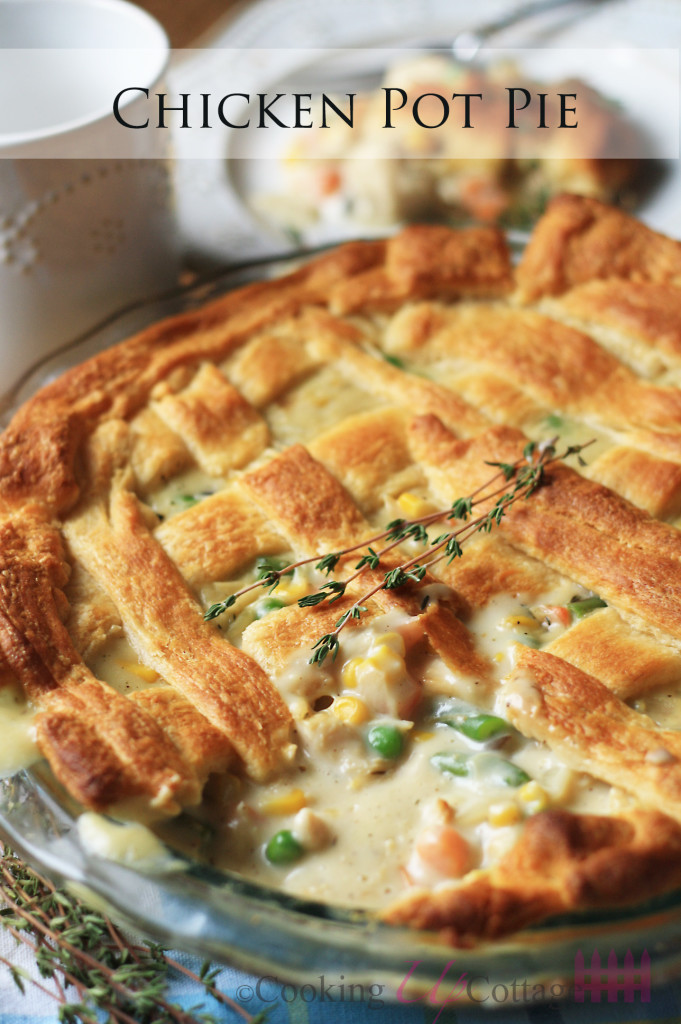 Ingredients
1/2 cup of finely chopped onions
1 (16 oz.) package of frozen mixed vegetable (classic mix of: corn, carrots, peas, and green beans)
2 tablespoons of butter
1 (10 1/2) ounce can cream of chicken soup
1 (10 1/2) ounce can of cream of mushroom soup
1 cup of milk
1/2 teaspoon dried thyme leaf
1/4 teaspoon salt
1/4 teaspoon pepper
1 (9.75) ounce can of cooked white chicken breast or 1 1/2 cups of cooked chicken
1 (8 ounce) package refrigerated crescent rolls
Instructions
Start by preheating the oven to 375 degrees. Next you will need a 1/2 cup of onion chopped into fine pieces.
Then in a microwave safe bowl cook your 16 oz package of frozen vegetables according to the package directions. While the vegetables are cooking in the microwave, start cooking the onion over medium heat with 2 tablespoons of butter until the onion is tender.
Next whisk in the 1 (10 1/2) ounce can cream of chicken soup, 1 (10 1/2) ounce can cream of mushroom soup, 1 cup of milk, 1/2 teaspoon of dried thyme leaf, 1/4 teaspoon salt, and 1/4 teaspoon of pepper.
Then add your cooked vegetables.
Drain the water out of the 9.57 ounce can of cooked white meat chicken breast and add it to the filling. Or you can use 1 1/2 cups of leftover cooked chicken.
Pour the filling into a greased 9.5 inch oven safe pie plate.
Now get the crescent rolls out of the package and spread them out on a cookie sheet and smooth out the triangular perforations.
Cut the crescent roll dough into 1 inch strips.
Place the dough on top of the filling in a lattice pattern. Putting one row down and then the next row on top.
Bake the pie for 15-20 minutes or until golden brown in a 375 degree oven. Let it sit for 5 minutes and then serve. This pot pie is great served with mashed potatoes because you can pour any extra filling over the potatoes.
Click here to view more recipies at Cooking Up Cottage.
Comments
On
Feb. 13, 2018, 10:26 p.m.
"<a href=http://canadlan-pharmacy.com>cheap viagra online canadian pharmacy</a> viagra online kaufen billig http://canadlan-pharmacy.com "
On
Feb. 7, 2018, 2:44 p.m.
"<a href=http://canadan-pharmacy.com>cheap viagra usa</a> viagra online legal kaufen http://canadan-pharmacy.com "