Chicken Gyros with Tzatziki Sauce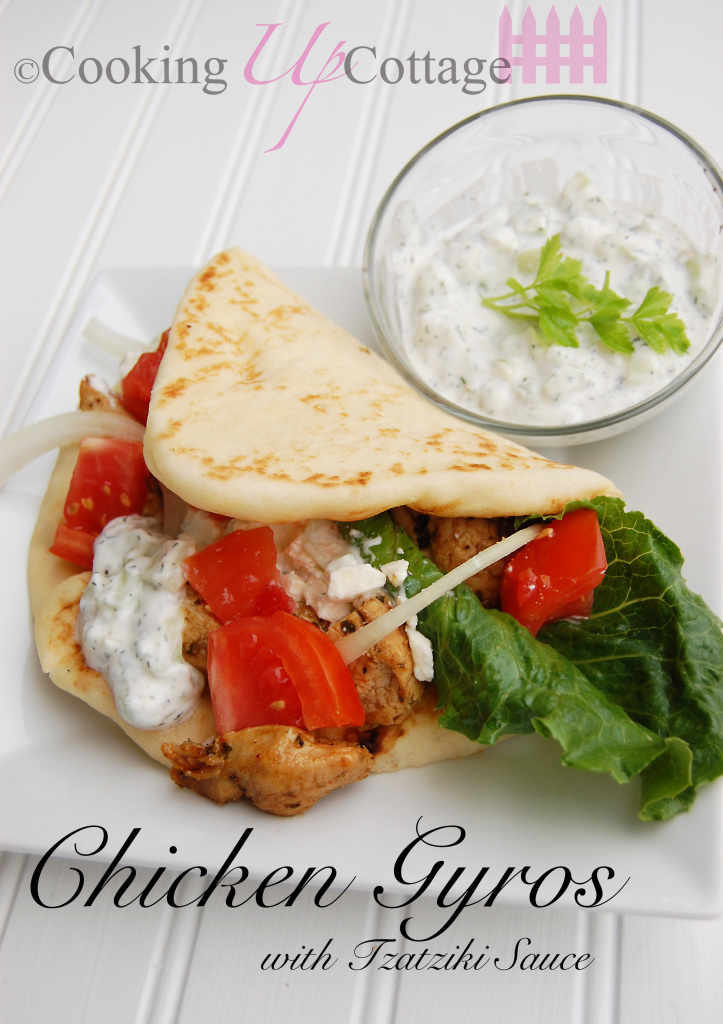 Ingredients
Chicken and Seasoning
-------------------------------------------------------
2 lbs. boneless skinless chicken breasts
1/2 teaspoon salt
1/2 teaspoon paprika
1/2 teaspoon pepper
2 teaspoons dried parsley
1 teaspoon garlic powder
2 teaspoons oregano
2 tablespoons of olive oil (use to cook chicken)
-------------------------------------------------------
Tzatziki Sauce
----------------------
1/2 cucumber peeled and finely diced
1 (7 oz.) container of plain Fage greek strained yogurt
1/2 teaspoon garlic powder
1 teaspoon dried dill
1/2 teaspoon lemon juice
1/4 teaspoon salt
1/4 teaspoon black pepper
-------------------------------------------------------
For Serving
--------------------
4-6 Greek flatbreads
lettuce
tomato (diced)
onion (sliced)
feta cheese
Instructions
Start by making your Tzatziki sauce. You will need 1/2 of a cucumber, 1 (7 oz.) container of plain Fage greek strained yogurt, 1/2 teaspoon of garlic powder, 1 teaspoon of dried dill, 1/2 teaspoon of lemon juice, 1/4 teaspoon of salt, and 1/4 teaspoon of black pepper. Peel the cucumber. Chop half of the cucumber into fine pieces. Mix the cucumber, yogurt, garlic powder, dried dill, lemon juice, salt, and black pepper. Now you can set your Tzatziki sauce aside and mix up the spices for your chicken.
In a bowl mix 1/2 teaspoon of salt, 12 teaspoons of paprika, 1/2 teaspoon of black pepper, 2 teaspoons of dried parsley, 1 teaspoon of garlic powder, and 2 teaspoons of oregano. Next pound your chicken to a 1/2 inch thickness between two pieces of wax paper. Then cut the chicken into strips and season with the seasoning that you just mixed up. Then put it in a pan and cook it with 2 tablespoons of olive oil until it is no linger pink and has a temperature of 165 degrees.
Now it is time to put your gyros together with your condiments. You need flat bread, lettuce, onions, tomatoes, feta cheese, and the Tzatziki sauce. Heat your flatbread according to the package directions and pile on your favorites.
Click here to view more recipies at Cooking Up Cottage.