Baked Ziti with Meatballs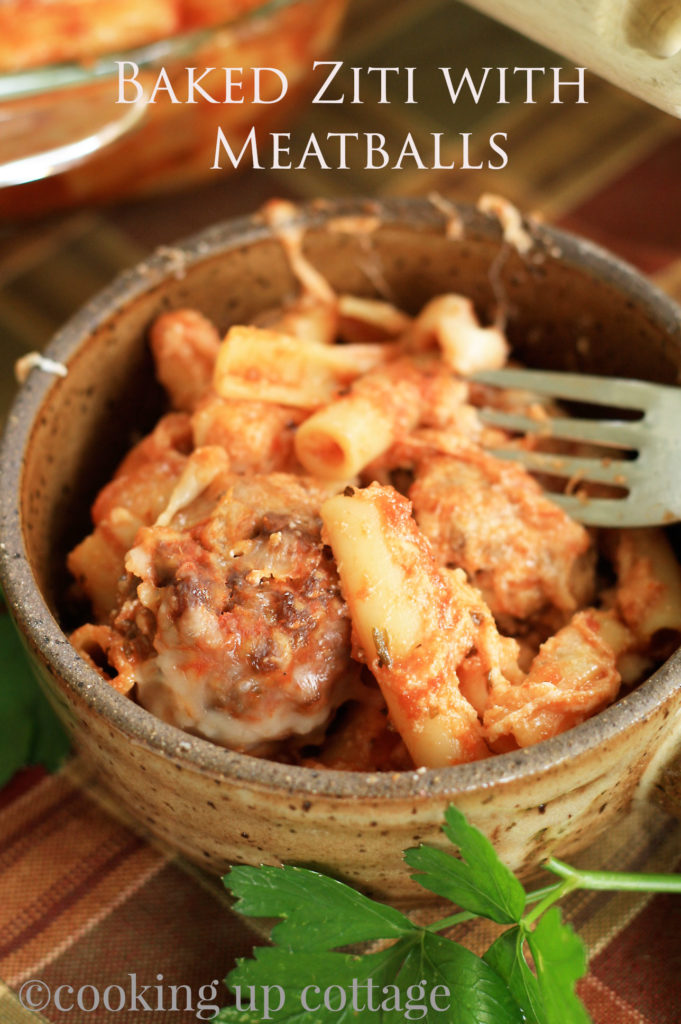 Ingredients
Meatballs
1 pound of ground beef
2 slices of white bread that have been chopped into small pieces
1/4 cup of milk
1/4 cup of finely chopped onion
1 egg
1/4 teaspoon salt
------------------------
2 1/2 cups of ziti pasta (about 1/2 of a 16 oz. package)
1 large jar of Prego Traditional pasta sauce (2lb. 13 oz. jar that is the bigger jar)
1/2 teaspoon of garlic powder
15 oz. container of Ricotta cheese
4 cups of mozzarella cheese (2 cups for the middle layer and 2 cups for the top)
Instructions
We will start by mixing up the homemade meatballs. Mix together 1 pound of ground beef, 2 slices of white bread that have been chopped into small pieces, 1/4 cup of milk, 1/4 cup of finely chopped onion, 1 egg, and 1/4 teaspoon of salt in a bowl.
Next shape into around 25 meatballs about 1 inch in diameter. Place the meatballs on baking sheets lined with foil. Bake at 375 degrees for 30 minutes or until the meatballs reach 160 degrees on a meat thermometer.
While the meatballs are cooking, you can boil 2 1/2 cups of ziti pasta (about 1/2 of a 16 oz. package) according to the package directions.
When your meatballs and pasta are finished cooking you can combine them with the large jar of Prego Traditional sauce and a 1/2 teaspoon of garlic powder in a bowl.
After you have that mixed together, you can start layering the casserole in a 9"x13" baking dish. Layer half of the sauce mixture in the baking dish.
Now in a bowl mix together a 15 oz. package of ricotta cheese with 2 cups of mozzarella cheese and then spread this layer on the sauce layer in your baking dish.
Now top this layer with the remaining sauce layer.
Then cover the top with 2 cups of mozzarella cheese.
Cover the pan with foil and bake for 30 minutes at 350 degrees. And then uncover the pan and bake them for an additional 15 minutes.
Click here to view more recipies at Cooking Up Cottage.