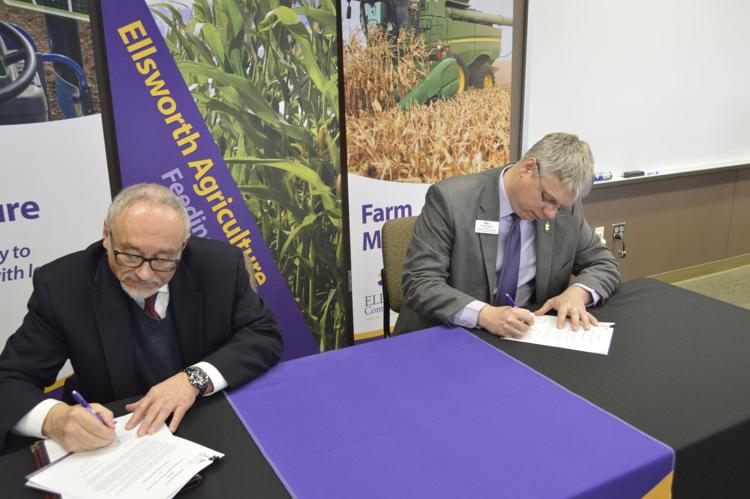 Ellsworth Community College's Precision Agriculture Program is one of the best. In fact, last year it ranked No. 3 in the entire country.
But Ellsworth can only offer a two-year degree and it can be difficult for students who continue to study ag to find another school to seamlessly transfer into after graduating from ECC.
Enter the signing of today's official partnership with Morningside College.
While the two schools have had mostly compatible courses since Morningside began its applied agriculture and food studies major five years ago, faculty and staff at each school have collaborated to ensure a smooth transition.
"We've had a lot of students who when they graduate from here they want to transfer on," said Kevin Butt, an Ellsworth ag professor. "Typically, to move on there are not a lot of choices out there."
Morningside Provost Dr. William Deeds said the new "2+2 Pathways" agreement not only ensures Ellsworth graduates' academic credits will transfer, but that transfers will be regarded in the same standing as every other incoming junior on campus.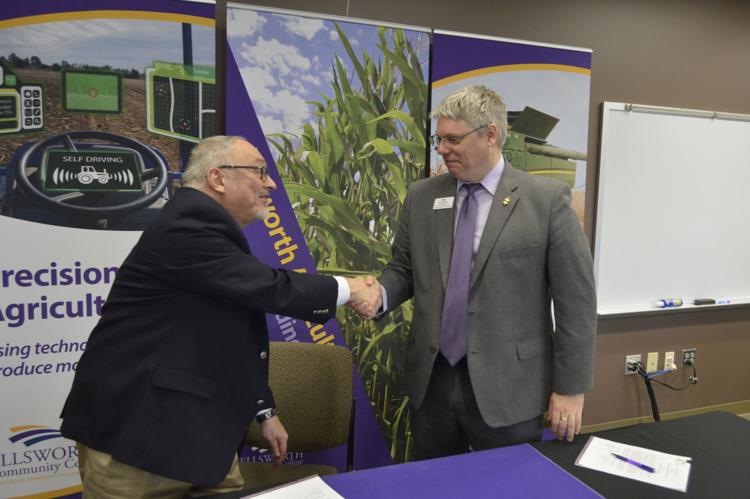 "Once (students) enter the Morningside College Pathways Program, we provide a number of services to them," Deeds said. "They're treated just like our students, so when they transfer, rather than coming in at the bottom of the list for student housing or what classes are open, they would register with our rising juniors."
Ellsworth Director of Admissions Adriane Sietsema said recruiting students to a program as lauded as precision ag is not as difficult as it can be for some other disciplines, but the new agreement will make it easier.
"It's a great recruitment and retention tool for our students," she said. "Knowing that they will have an easy transition to their next school is great peace of mind for them and their parents."
Ellsworth Provost Dr. Martin Reimer was enthusiastic about taking away any doubt about future opportunities from the first day ECC ag students arrive on campus.
"What makes me excited about this is it's really living up to the mission of Ellsworth of providing quality learning experiences and ensuring student success," Reimer said. "When I talk to my faculty and staff about student success we always talk about not just here, but that we're setting them up to be successful in the next step of their life."