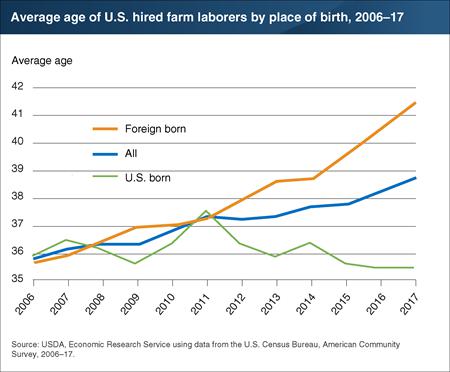 Between 2006 and 2017, the average age of hired farm laborers (excluding managers, supervisors, and other supporting occupations) has risen 8 percent—from 35.8 years to 38.8 years.

This increase has been entirely driven by the aging of foreign-born farm laborers, who made up between 54 and 58 percent of the workforce over this period.

Their average age rose 16 percent, from 35.7 in 2006 to 41.6 in 2017. In contrast, the average age of farm laborers born in the United States (including Puerto Rico) has remained roughly constant.

The main reason for the aging of the foreign-born farm laborer population has been the decline (starting in 2008) in the flow of new immigrants, who tend to be younger.

One response to the aging of the farm workforce has been to increase the use of mechanical aids, such as hydraulic platforms to replace ladders in orchards and mobile conveyor belts to reduce the distance that heavy loads must be carried in the fields.

These changes may enable workers to prolong their careers, and may also make it easier for more women to work in agriculture.

This chart appears in the ERS topic page for Farm Labor, updated December 2018.

It is also in the Amber Waves article, "U.S. Hired Farm Workforce Is Aging," published in May 2019.