(Family Features) A delicious and nutritious dinner seems like the last thing on everyone's mind during busy weeks throughout the year. Between sports, school, extracurricular activities, work and everything else going on, sitting down together for dinner seems to be a rare occasion for many families.
Registered dietitian and cookbook author Carolyn O'Neil offers a few quick, simple tips to help bring the family together, one meal at a time.
Turn off the TV. When trying to bring everyone together, electronics of any kind – including cell phones – can be a big distraction.
Follow guidelines. Americans are only meeting the U.S. Department of Agriculture's MyPlate recommendations for vegetables, fruit, proteins, dairy and grains seven days out of the year. By pairing frozen meals and pizzas with fruits, vegetables, whole grains and low-fat dairy, you can build a family meal that meets the Dietary Guidelines for Americans.
Start with sides. When meal-planning, don't forget to think about how you'll round out your meal with vegetables, fruits, grains and low-fat dairy for a balanced diet. Nestle's Balance Your Plate program focuses on simple solutions, offering a range of recipes and tips that allow you to choose the perfect pairings to help you build a nutritious and delicious meal.
Frozen entrees are easy to keep on hand for a meal that will be ready to go whenever you need it. O'Neil recommends using the freezer like "nature's pause button" to save great flavors and good nutrition for when you're ready to cook. One flavorful option is Stouffer's Lasagna with Meat and Sauce, which contains ingredients you trust and recognize, with no artificial flavors, colors or preservatives, and just needs to be popped in the oven before serving.
For a balanced meal the whole family will enjoy, try pairing the lasagna with a Farmers' Market Salad with Sweet and Spicy Dressing or Sweet Pea Hummus. A frozen meal coupled with a simple side can be the perfect way to balance out a nutritious family dinner.
For more recipes and tips to balance your plate, visit nestleusa.com/balance.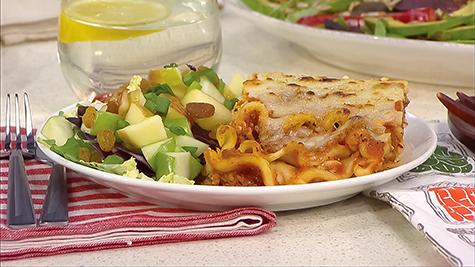 Farmer's Market Salad with Sweet and Spicy Dressing
Recipe courtesy of Carolyn O'Neil on behalf of Stouffer's
Salad:
1 green apple, diced
1 red apple, diced
1/2 cup thinly sliced green onion
1 cup chopped baby kale
1 cup sliced Napa cabbage
1 cup sliced red cabbage
1/2 cup golden raisins
Dressing:
1/4 cup lemon juice
1/4 cup honey
2 tablespoons hot sauce
2 tablespoons canola oil
1 teaspoon celery salt
1/4 teaspoon black pepper
In small bowl, whisk together all ingredients. Store in refrigerator in airtight container up to 3 days.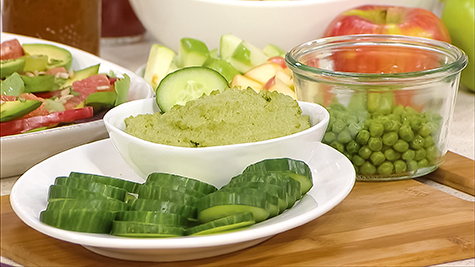 Sweet Pea Hummus
Recipe courtesy of Carolyn O'Neil on behalf of Stouffer's
2 packages (9 ounces each) frozen sweet peas, thawed
3 garlic cloves, chopped
3 tablespoons extra-virgin olive oil
2 tablespoons fresh lemon juice
1/16 teaspoon table salt
freshly ground black pepper, to taste
1 cucumber, sliced into 1/4-inch rounds.
Place peas and garlic in food processor; with processor running, pour oil through food chute in slow, steady stream, processing until smooth.
Stir in lemon juice and salt; season with freshly ground black pepper, to taste. Cover and chill 2 hours.
Serve with cucumber slices.
SOURCE:
Stouffer's